CGM Laboratory Solutions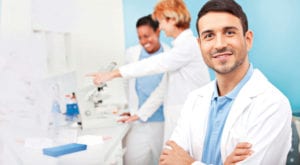 CompuGroup Medical US offers leading laboratory solutions including CGM LABDAQ® Laboratory Information System and the CGM LABNEXUS® Laboratory Outreach Solution web portal.
CGM LABDAQ
CGM LABDAQ, from CompuGroup Medical (CGM) is an advanced laboratory information system (LIS) that empowers labs of all sizes and specialties to optimize revenue and improve customer satisfaction by increasing efficiency, streamlining workflow, reducing turnaround times and promoting patient safety. CGM LABDAQ enables seamless connectivity with all types of EHR and billing systems and provides actionable insights for business decision support through advanced analytics and reporting. Our laboratory solution, CGM LABDAQ leverages a modern platform with decades of experience as the market-leading LIS.
CGM LABNEXUS
CGM LABNEXUS® offers laboratories performing outreach testing with a web portal to stay connected to the providers they serve. Its tools simplify the information exchange process, improving workflow and allowing the lab to increase volume and grow without limits. CGM LABNEXUS is an easy to use, intuitive cloud-based laboratory solution designed to help you grow your lab outreach business through greater convenience and direct connectivity. With rapid information exchange, this innovative system expedites and streamlines the online order and results delivery process, resulting in increased collaboration and coordination of care for providers partnered with your organization.
Your customers can seamlessly connect with their critical laboratory data through their own EHR, web browser or mobile device, enabling informed patient care decisions anytime and anywhere.
About CGM
CompuGroup Medical US is the US division of CompuGroup Medical SE – one of the leading eHealth companies in the world. CompuGroup Medical US works to synchronize the systems of the healthcare industry with the mission of patient care, enabling providers to achieve the best possible outcomes for their patients. CompuGroup Medical US creates healthcare IT solutions to support the clinical and practice management activities that take place in physician practices, community health centers, hospitals and laboratories. These solutions include Meaningful Use certified electronic health records (EHRs) that are proven to contribute to safer, higher quality and more efficient healthcare. The company's portfolio also includes practice management (PM) software, productivity tools, EDI/reimbursement and more. For more information about CompuGroup Medical US, visit www.cgm.com/us.